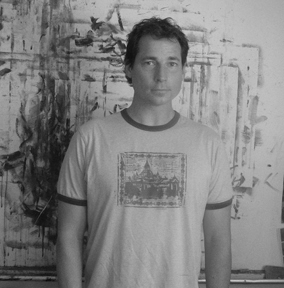 James Bentley is a Canadian artist who lives and works
on the small island L'&Icircle-Perrot, just off Montreal, Québec.
He studied and began his career as a freelance illustrator;
a practice which gave him a great love for drawing.
Anchored in figuration, he now works mainly with
acrylic on canvas and acrylic & pastel on paper.
Bentley's current body of work is focused on the ocean,
portraits and figure studies. He is always on the search to paint
in an inventive open manner.

EDUCATION
John Abbott College - Fine Arts, Ste-Anne de Bellevue Quebec 1989-1990
Dawson College - Illustration & Design, Montreal Quebec 1991-1993
The Illustration Academy – Liberty Missouri1997-1998
Saidie Bronfman Centre - Drawing The Model, Montreal Quebec 2003-2004
SOLO EXHIBITIONS
upcoming – Galerie d'art Michel Bigué,Saint-Sauveur, Quebec – July 2017
Galerie de la Ville, Dollard des Ormeaux, Quebec – 2012
Warren G. Flowers Gallery, Montreal - 2010
Campbell House Museum, Toronto - 2009
Campbell House Museum, Toronto - 2008
Chateau Vaudreuil, Quebec - 2001
upcoming –Artport Gallery, Toronto - Fubruary 2 to April 22 2018
Peel Art Gallery Museum & Archives, Brampton, Ontario - Nov 2 to January 21 2018
The Kingston Prize, Firehall Theatre, Gananoque, Ontario - 2017
Toronto Outdoor Art Exhibition, Toronto - 2015
E.K. Voland Gallery, Montreal - 2014
Galerie McClure, Montreal - 2013
The Artist Project, Toronto - 2011
Sunnyside Beach Art Shontreal Quebec - Le Salon Du Dessin - 2010
Espace Ars Longa, Mo - 2010
Toronto Outdoor Art Exhibitionw, Toronto - 2009
Stewart Hall Gallery, Pointe-Claire, Quebec – 2009
Toronto Outdoor Art Exhibition - 2008
Georges-Vanier Gallery, Montreal – 2007
Warren G. Flowers Gallery, Montreal - 2007
Society of Illustrators Museum, New York - 2004-1999
California State University - 2001
Pacific Design Center, Hollywood, California – 2001
Design Exchange, Toronto, Ontario - 1999-1998
CLIENTS
National Geographic, Canadian Embassy, Harper Collins, Houghton Mifflin,
Penguin Publishers,McClelland & Stewart, Tundra Books, Scholastic Publishers,
Orca Books, Napoleon Books, Macmillan/McGraw-Hill, Pearson Education,
Pauline Books and Media, Affaires Plus, LDS Living Magazine, Good Times Magazine,
The National Film Board, Nestle, Avon, E.D. Smith,
Molson, Hagen, Air Canada, and Bombardier.
ARTICLES & PUBLICATIONS
Pastel Journal - March/April 2003
Applied Arts - Cover Story, Nov/Dec 2000
CMYK Magazine - Fall 1998

AWARDS
Communication Arts - Illustration Annual 44-45
Society of Illustrators (L.A.)- Joseph Morgan Henninger Award- Best of Show, Merit Award (2001)
Society of Illustrators (NY) - Three Merit Awards (1999-2004)
C.A.P.I.C. - One Silver, One Bronze, Two Merit Awards (1998-1999)
LUX - Two Grand Prix, Two Finalist (2000-2002)
Applied Arts - Award of Excellence (2002)
Pierrefonds Art Competition - 1st Place (1998)

VISITING ARTIST: LECTURES
Dawson College 1999 -
▲